Yet another Collection 2000 eyeliner. This time is a black liquid eyeliner.
Fast stroke eyeliner is a black eyeliner with a fine
tipped
applicator. I wouldn't consider this to be a very very black eyeliner. I also have to shake the bottle before I apply this and then when applied I would need to over the eyeliner again to get the desired black colour that I wanted. I would also consider this to be very
liquid
, I know its a liquid
eyeliner
, however I have used eyeliners that are not as runny as this one. However, Fast stroke does glide across the eyelid so its easy to apply.
Longevity:
This eyeliner has good longevity. I applied it mainly over an eyeshadow primer and it lasts all day. However there were times when it was difficult to remove. However, I wasn't that
surprised
by this as it stayed on so well.
Packaging:
I liked the packaging for this eyeliner. It came in a compact little bottle and was easy to travel with. There was also a lot of product in the small bottle. There is 6ml of product in the bottle. It indicates on the bottle 'For precision & definition. Shake well before use'. I would definitely recommend following this step.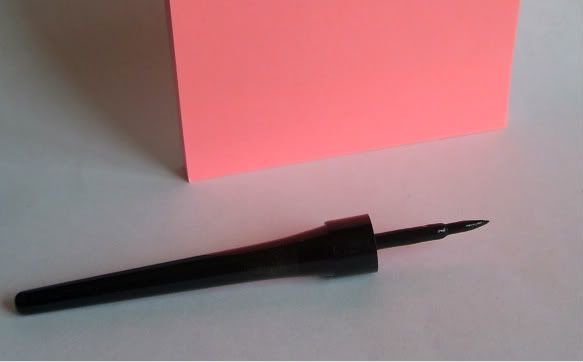 Price:
I purchased this about two months ago so cant remember the exact price, however I think it was approximately €6-€7. I bought this in Boots.
Would I buy this product again? I'm not actually sure about this, I think it will depend on when I finish this bottle. I like the packaging and the way it glides on, however I dislike that the colour isn't very black when first applied.