I usually purchase only black felt tip eyeliners, however I decided to buy a coloured eyeliner and decided on the Collection 2000 Extreme 24 Hour Felt Tip Liner.
Product
I purchased this eyeliner in 'Teal', which is a really great colour. It goes with so many different green eye looks that I have worn. I have also added it to some black smokey looks to give it a little edge. The pigmentation of this eyeliner is very strong and stroking it across the eyelid once greats a strong look. If it is used more than once on the lid it darkens the liner slightly, which I don't see as a disadvantage.
The felt tip of the eyeliner is very soft so doesn't cause any irritation to eyes when applying it. It is also easy to apply because of the softness of the felt tip.
Extreme 24 Hour Felt tip liner does actually last 24 hours. I have worn it for up to 14 hours, which I realise is not 24 hours, and it has lasted and even when I've gone to take it off it has been difficult. This might be the one disadvantage of this product, it stays on so well that its very difficult to remove.
This eyeliner comes in a thin black tube, somewhat like a pen. It has a removable lid and underneath is a felt tip for easy application, as shown above.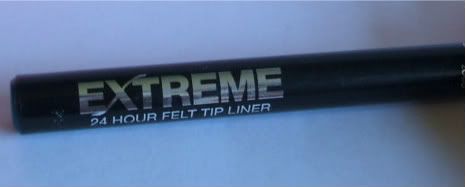 I can't remember the exact price of this but it was probably about €4 or €5.
Would I buy this product again? Yes, but I would buy it in black as I feel I would use it more.