Everyone seems to have this palette and I didn't buy it until recently and, I'm not sure why I waited so long because I love it.

Product
I'll begin with what you get in the naked palette. The palette itself contains twelve eyeshadow, a good karma eyeshadow brush and also a small bottle of primer potion. The product, when initially launched, included a double ended 24/7 eyeliner but has since been replaced with the eyeshadow brush. From reading other reviews I seem to be the only one that likes the addition of the eyeshadow brush. The brush is of very good quality.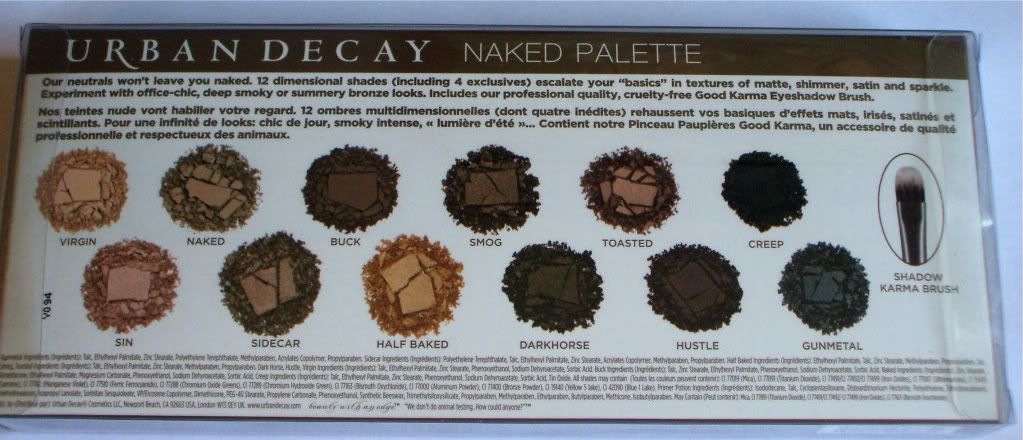 This is a palette with a lot of neutral colours. Although, while, the majority of colours are neutral, there are also a variety of colours that can be used to create very different looks and add something extra to the usual neutral looks.

There are twelve shadows included, each at 0.05oz. The colours include:
Virgin - this is a very light nude colour. It goes with all of the colours in the palette and is one of my favourites. This has a satin finish.
Sin - this is part of their permanent collection. This is a little darker than 'Virgin' but also a lovely colour. It is a shimmer finish.
Naked - this is also a part of the permanent collection. This is a matte colour. It is a light brown colour. This is one of two matte colours in the palette.
Sidecar -when I first opened the palette this was my favourite colour. I still love the colour, however I find that the Sidecar has a different formula than the other colours. It is a very sparkley beige colour which I dont particularly like about the eyeshadow, however I still love the actual colour, however.
Buck - This is the second matte colour in the palette. It is a darker brown than that of Naked.
Half Baked - part of the permanent collection. This is a bronze colour.
Smog - also in the permanent collection. This is a golden brown shimmer. Its darker than that half baked.
Darkhorse - this is a dark bronze shimmer. Very versatile colour and goes with so much in the palette.
Toasted - part of the permanent collection. This is described as a taupe bronze colour, however I think it has slight pink undertones. When I first opened the palette, this was a colour that I wasn't very interested in, however I know now it. Its such an easy colour to wear and can be used with many other colours.
Hustle -this is also described as a mocha shimmer, I also think that it has purple undertones. It goes great with 'toasted'.
Creep - this is an almost black metallic colour. It creates a great smokey eye.
Gunmetal - part of the permanent collection. This is also great for a smokey eye look. Its a dark grey metallic. It appears to have dark blue undertones.

The pigmentation for all of these eyeshadows is excellent. For colours, such as, 'Creep' and 'Gunmetal' a small amount of product will create a dramatic smokey eye.
The texture for all the eyeshadows is very smooth. They range from glitter to shimmer to matte. Which is great because there are not many palettes that offer matte colours along with glitter.
The only problem that I had with the application was that there was fall out, which is easily resolved.
Longevity
I use eyeshadow primer under all of my eyeshadows but even when using a small amount with these eyeshadows they last for so long. I have applied it at 9 in the morning and removed it at 12 at night and have seen very little creasing. When I used more primer they last even longer, which is great because you dont have to touch-up your eyeshadow.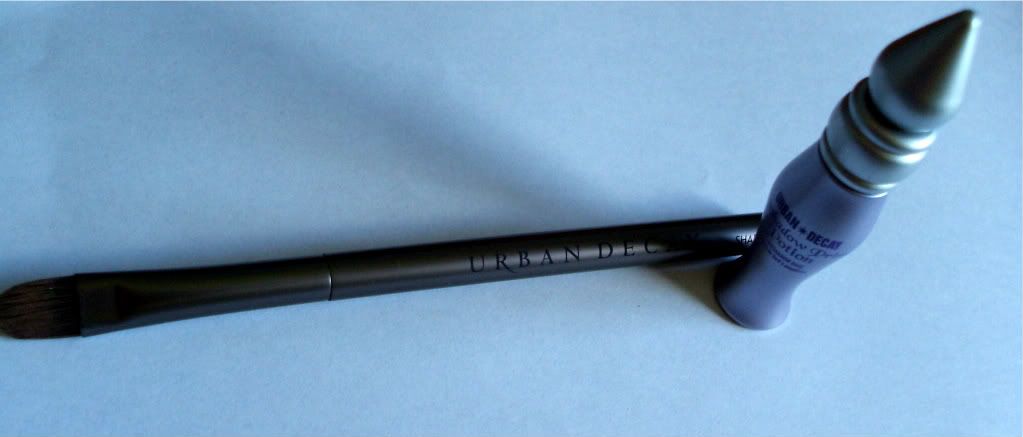 Packaging
This was an area that I was apprehensive about as the outside of the palette has a chocolate velvet case. I felt that this would quickly start to look dirty and be difficult to clean. I find that simply wiping it with a dry tissue removes any marks that appear. The 'Naked Urban Decay' is in gold foil lettering on the front. The lid lifts up to reveal the twelve eyeshadows and the good karma eyeshadow brush. There is also a small mirror on the inside, which I find difficult to use but would be fine in a situation if no other mirror was available.

Price
I purchased this from the House of Fraser. It was £32. Delivery to Ireland was £3. So overall I paid £35, which was €40. I know this is more expensive that on the Urban Decay website but I decided that I'd rather pay a little extra and receive it earlier. House of Fraser seemed to be the only place that I could order the palette from at the time I was ordering, as everyone was out of stock.
Would I buy this product again? Yes. I have used this product everyday since I bought it and it looks like I have touched it.