Antiqued was one of the first Mac eyeshadows that I bought and I must say that I really like it.
Product
Antiqued is an ash brown colour with a bronze undertone. It also has a veluxe pearl finish. It is very pigmented and therefore if using it to create an eye look with other eyeshadows then only a small amount is necessary.
There is a very smooth texture to this eyeshadow which makes it very easy to blend. This makes it very easy to apply. The only small problem that I have with this eyeshadow is that there is a small amount of fall out, which can be easily overcome and would not stop me from using the eyeshadow.
The longevity from this product is excellent and when ever I use it, it lasts me all day or night. I do always use an eyeshadow primer with it. However, the swatch shown below doesn't have primer underneath, which shows how pigmented it is.
Antiqued comes in the usual black compact case, used by MAC, with the flippable lid. It is great for travelling with and really protects the product. There is 1.5g or 0.05oz of this product provided.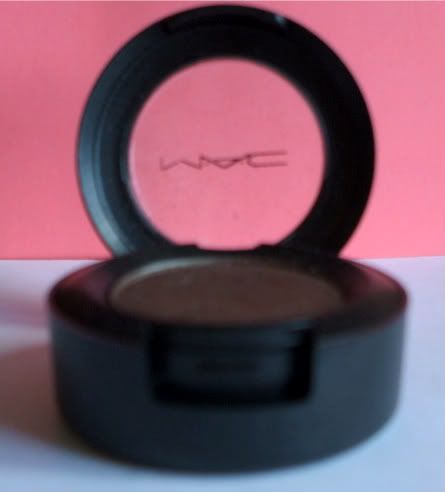 I purchased this eyeshadow a while ago and therefore I can't remember exactly what I paid. However on the MAC site it costs $14.50. However, it will be more expensive in Ireland.
Would I buy this product again? Yes